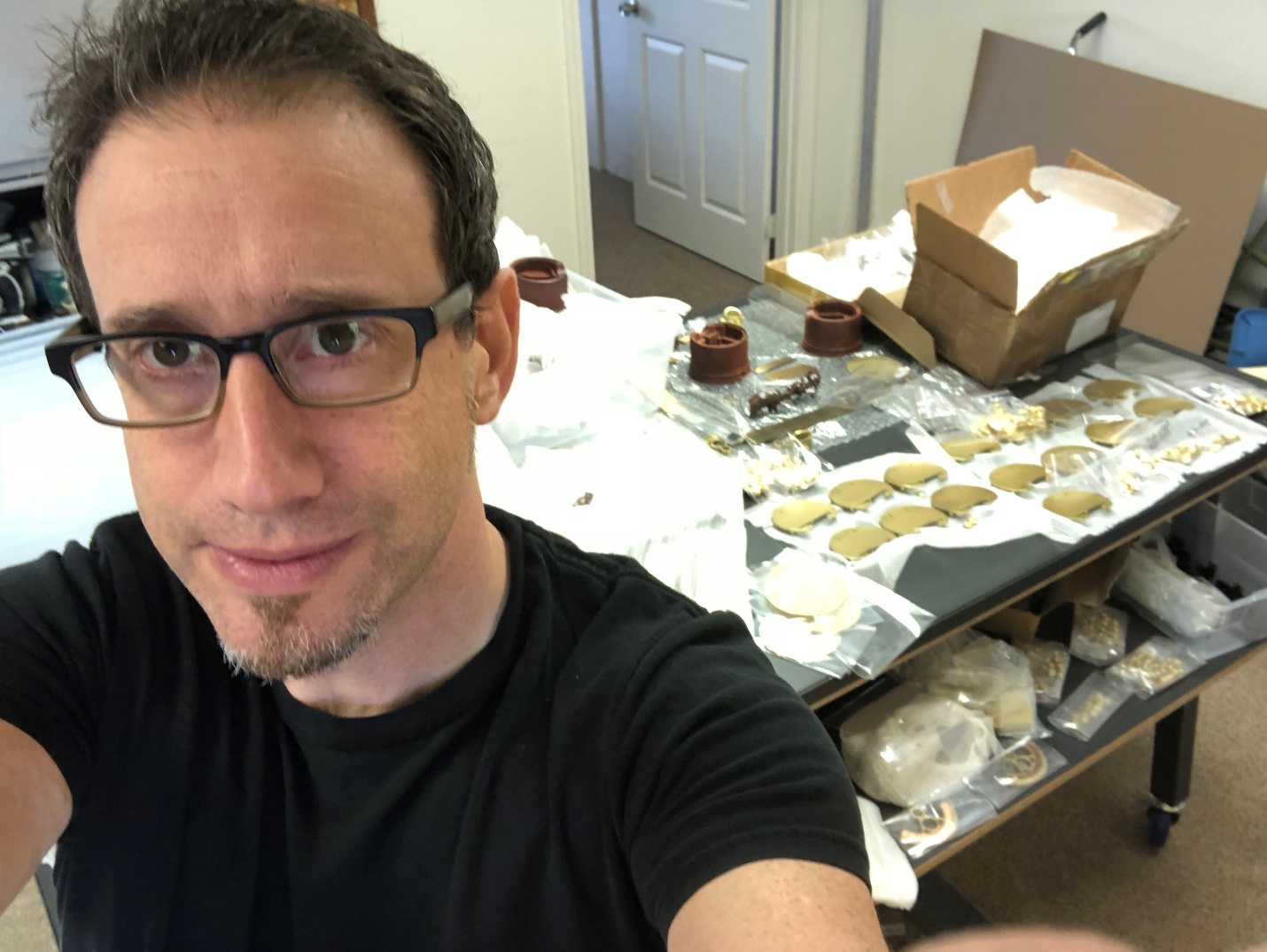 Published on by John Teel
Hello, I'm Steve August, Founder and CEO of August & Wonder.
Back in June 2018, I posted a guest post telling the story of launching my first hardware product, The Market Series A. My product is an IoT enabled sculpture of a bull and a bear on a see-saw that tilts in real time to changes in the stock market.
My original guest blog was well received, so I was asked to give an update on what's happened since August & Wonder launched our pre-order campaign in May, 2018.
I can say without exaggeration that a lot has happened. It's been an adventure with both highs and lows and above all a lot of learning. As I did in my last post, I'll share my major lessons learned.
It Takes Longer and Costs More Than You Think
When the pre-order campaign for the Market Series A was launched on May 1st, 2018 significant design and development work had been done on the product.
I have seen a lot of other crowd-funded products have huge delays in shipping out their product. Sometimes, they never shipped at all. I wanted to be sure we had things well worked out before we started asking people for money.
I have been working with Steven Dodson of Grune Technica who set up my manufacturing. I confirmed that a target shipping date of June would be no problem. We thought we had things pretty well dialed in. Well, that turned out to be optimistic, to say the least.
There's only so much you can anticipate on the first run of a new product before your parts are manufactured and shipped.
Because of the nature of The Market Series A as a unique, high-end product, we had the parts created in Asia and we did the assembly ourselves here in Portland, OR. This way we could tease out issues and make sure quality standards were high.
As pre-orders started coming in, we encountered issues and delays with different components. Castings samples showed that we needed to get some revisions to the molds.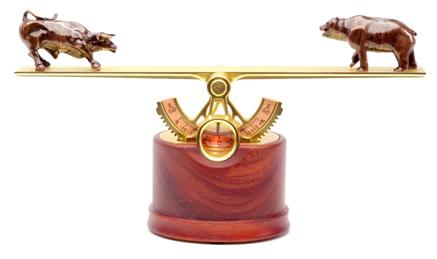 The motors that moved the seesaw were also too noisy, and it took time to sort out the right wood and finish for the base. The plating color and finish for the bull and the bear also had to be decided.
Each of these issues had a feedback loop between us and the factory, so every issue pushed the schedule forward. Come end of June, the estimate had moved to mid July. But then it quickly became apparent that mid August was going to be the target date.
But it could have been worse. One of the good things about having an experienced DFM consultant on the team was I knew ahead of time how to avoid as many problematic issues as possible. It's impossible to avoid them all, but I was able to minimize their impact as they came up.
One of our key strategies was to get sample parts from our factory before authorizing the shipment of the whole batch of parts.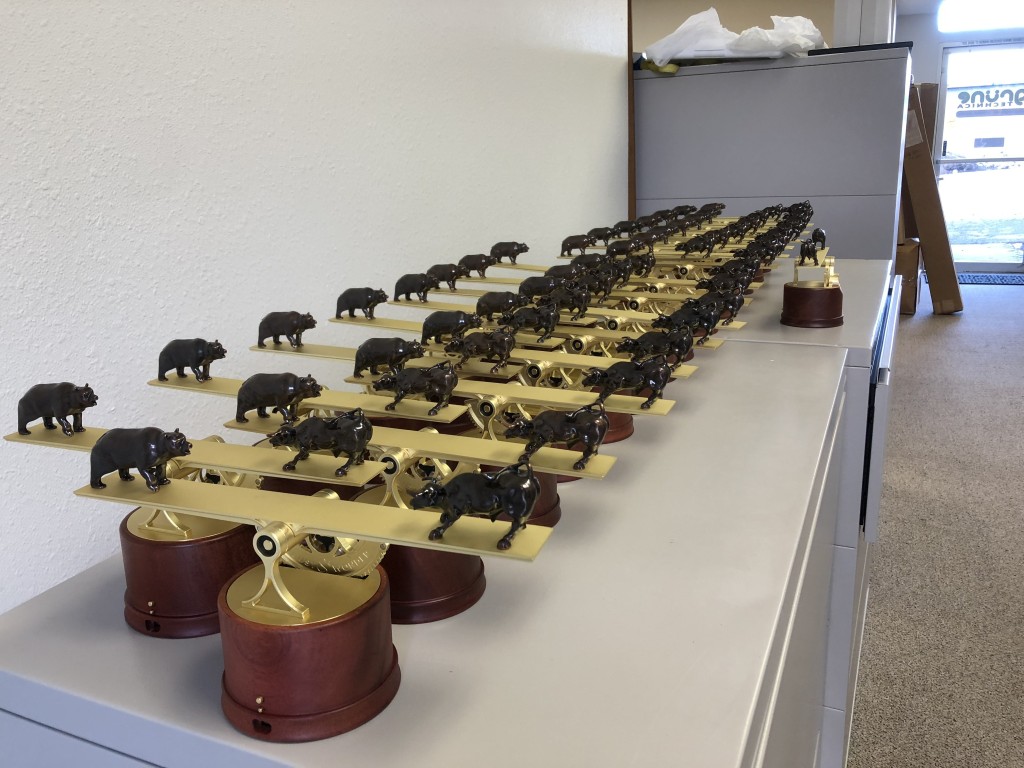 This way if we detected any problems, the parts were still at the factory and could be tweaked. If we had gotten a whole batch of bad castings or motors, we would have been in a very bad place indeed.
We had pretty much gotten over the hump and everything was on schedule in mid August when the factory making our product cases let us know out of the blue that it was going to be three additional weeks.
This was a blow because it would significantly set back our delivery date to pre-order customers. Fortunately, we were able to scramble around to find a different supplier. We lost some time, but not as much as we could have.
Customer Communication is Key
During the whole pre-order period, as the delays built up, I spent a lot of time and effort communicating with customers.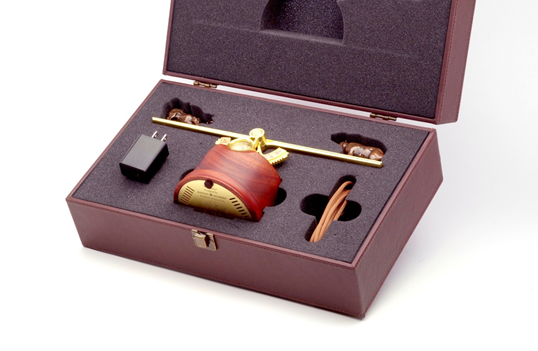 Given the number of hardware products with troubled crowdfunding campaigns, I made it a priority to be clear, transparent and consistent when communicating timelines to customers.
My goal was that no one should have to write to me to find out what was going on with their order. That meant that I needed to pretty quickly come clean with any delays or issues.
While it took a lot of effort, building and maintaining relationships with my early customers paid off, as no one canceled their order (which they had the right to do under the pre-order terms).
It also turned out that telling them about all the twists and turns of my product development, made them feel like they were along for the ride.
This came in especially handy since I had to juggle inventory in September and October. I was able to approach customers to see who was willing to delay receiving their product in exchange for an upgrade to the battery powered model.
In the early days, your relationship with your customers is probably your most important asset.
The Blessing and Curse of Crowdfunding Campaigns
One of the great things about crowdfunding and pre-order campaigns is that you learn really quickly if you have something people will buy. You also get invaluable feedback and establish connections with early customers.
The downside of crowdfunding/pre-order campaigns, especially when you are selling at a discount, is that you are selling to people who are ready to buy your product at a discount.
But they may not actually be an audience that will be willing to buy my product at full price.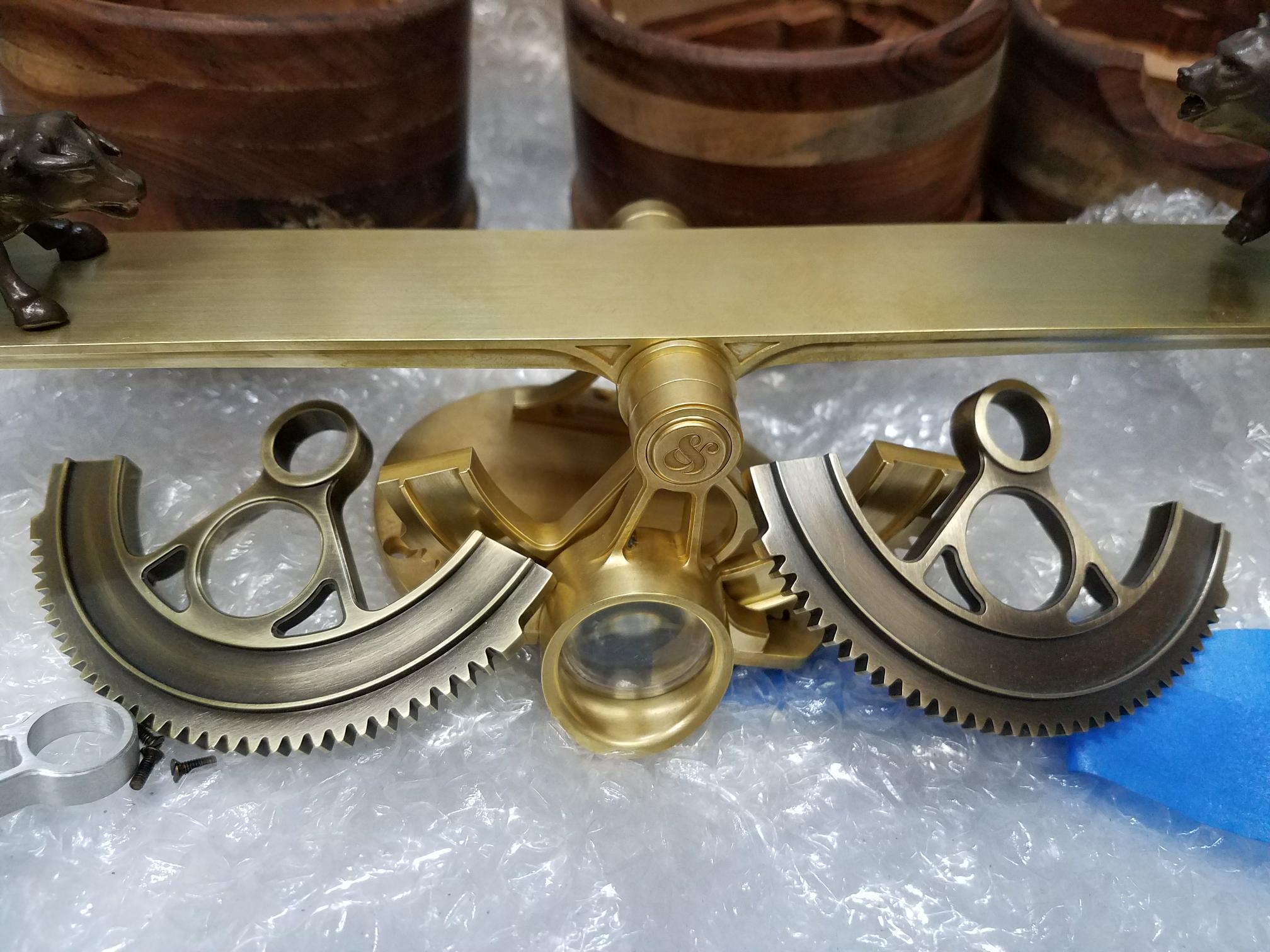 Your business will depend on finding people who will pay full price, so in some ways crowdfunding can provide false positives.
When I wrote my previous post, we were just starting a pre-order campaign which I did through the August & Wonder site versus through Kickstarter or Indiegogo.
I wasn't sure if that was the right call, but we did manage to sell seventy units. Honestly, I go back and forth about whether that was successful or not.
On the one hand, selling seventy $500 Markets as a brand new, unproven brand was really good, and proved I had a viable product. On the other hand, I hadn't even pre-sold half of my first production run.
One thing you miss out on when doing your own pre-order campaign is any kind of halo effect that Kickstarter and Indiegogo offer.
For instance, all the tech sites like Digital Trends and The Verge have writers covering the crowdfunding beat. Their content gets reposted by other blogs and sites, helping to publicize your funding campaign.
Of course Kickstarter and Indiegogo will take 15% of your funds, so it's all a trade off. My current plan for our next product is to crowdfund through a well known platform and see how it goes.
Margins Are Everything
As the pre-order period proceeded through June and July, it became abundantly clear that the cost per unit of the Market would be much higher than my original estimated per unit cost.
In fact, the first run cost nearly twice that. For hardware products, generally you want the retail price to be 4 times the landed costs.
You need this high of a gross margin to fund your marketing, to have room for affiliate commissions and to support your overhead and ongoing product development.
Our pre-order price was $495 for a plug-in version and $525 for a battery powered version. It became clear, however, that even at higher volumes the retail price point would not provide enough margin to be the basis of a successful business.
While many hardware products only become profitable at scale, The Market was intended to be a limited run, art piece. Therefore, it needed to be profitable at lower production volumes.
It's scary to raise your prices so I agonized over the decision. A higher price would be shrinking my potential audience significantly. What if no-one bought it?
But I also knew how much work and care was put into creating the Market. Now, $525 was starting to feel too low a price for a unique, limited edition of 300. Your price point often informs people how much something is worth.
So, after a bit of going back and forth, I made the decision to boost the price up to $990 for the plug-in version and $1100 for the cordless model on August 17th.
And on August 18th, someone bought two.
Don't Underestimate Building An Audience
This leads to potentially the biggest lesson of all: don't underestimate what it takes to build an audience for your product.
Your social media feeds are probably filled with gurus telling you they have the secret formula to go from $0 to $10 million in six months, but there is no magic secret.
It takes time, attention, money and effort to build your audience. It's a noisy world and it's a challenge to punch through.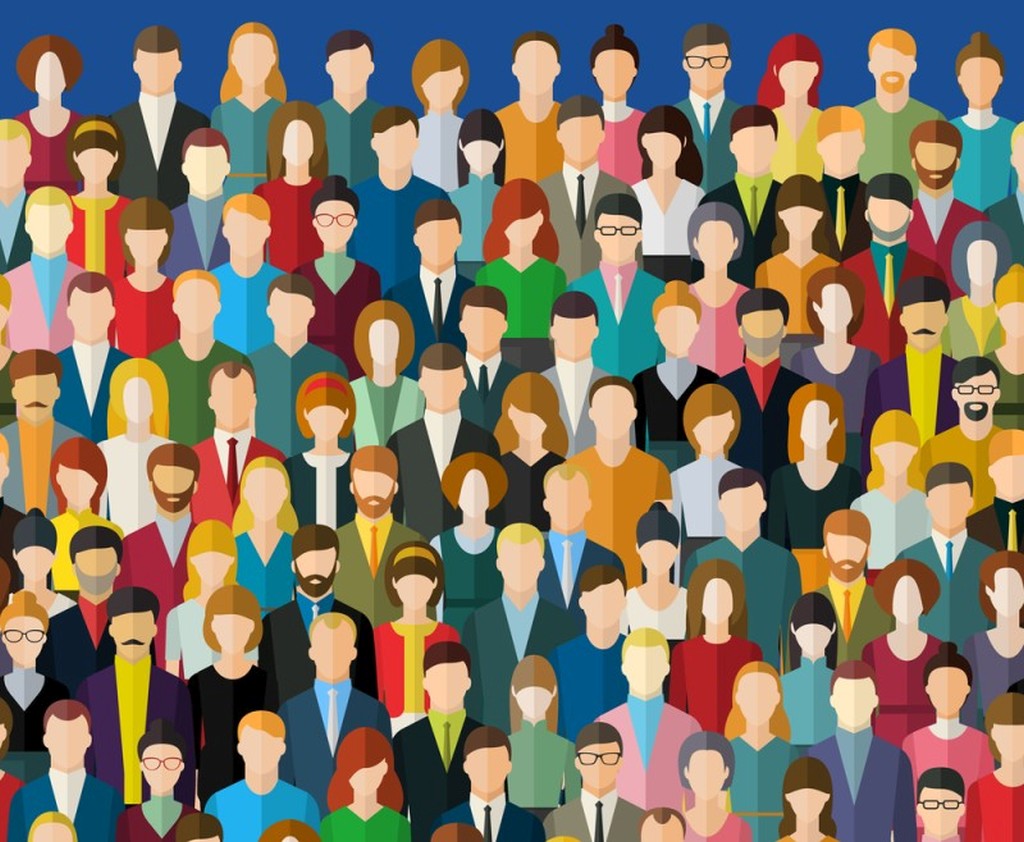 The challenge with The Market is that it doesn't fit neatly into an established product category, so there's not an easy road map to follow.
Then again, if it was something more common, I would have to fight through the noise of many competitors.
Going through this process has made me appreciate what retailers bring to the table. Essentially, they are bringing their audience to you. If your product is a good fit, great things can happen.
Raising my prices enabled me to start reaching out to high-end retailers. Due to the strength of The Market, I was able to partner with the retailers Touch of Modern and Hammacher Schlemmer.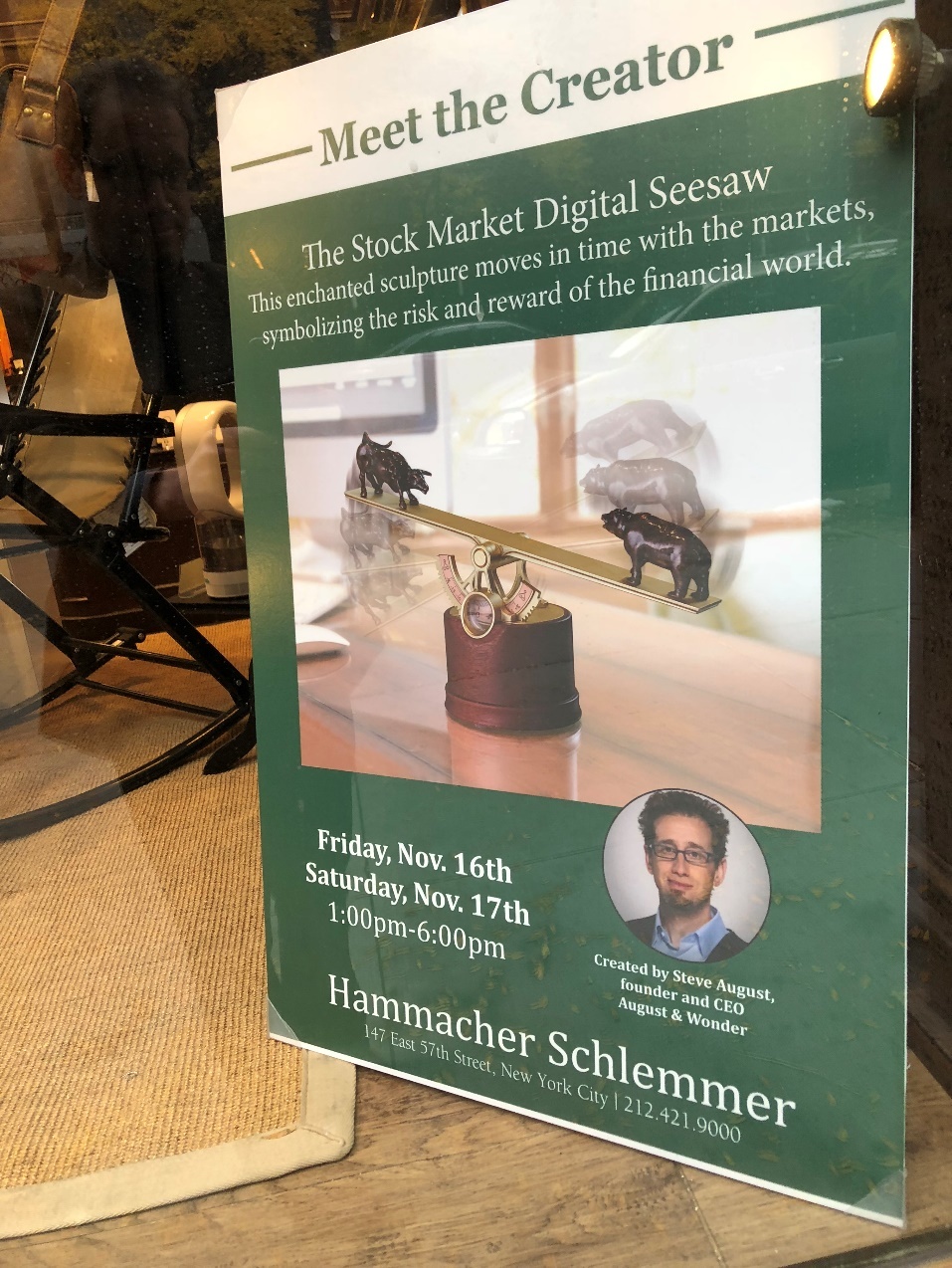 Finally Shipping!
The original plan was to ship at end of June, 2018. Then it became the end of July, and then mid August.
I was keeping up my communication with our customers, but I was getting a little worried that I would start getting cancellations if we didn't deliver soon.
We had issues with parts. We had issues with the product cases not being ready. Even shipping boxes were delayed a little.
But finally, in the first week of September, I packaged up and sent out the first two Market Series A's! It was a tremendous moment of excitement for both me and our first customers who had been waiting since May.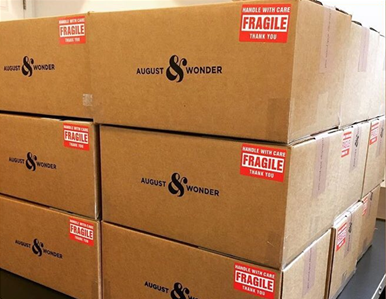 It was one of those moments of real satisfaction and pride – that I had imagined something that didn't exist, and then made it real. And hearing the initial, positive feedback and rave reviews was really something.
Inventory Scrambling
But even with all that good feeling, we were scrambling to finish assembly and have finished products. Throughout September and into October, we labored to make our way through the 70 unit pre-order backlog.
Again, communication with customers was paramount – keeping people updated and being transparent about when things had shifted and why. Thankfully, we didn't lose anybody.
Then, as we were getting close to the end of the pre-order backlog, we launched a campaign with Touch of Modern and sold almost 50 in two weeks, which was amazing!
But we were once again scrambling to have units available. In fact, I had to call in some favors with people I knew well, asking for them to wait a little bit longer so we could fulfill our other orders.
But it turns out this is part of the deal when you are a hardware or physical product company. You are always dealing with inventory issues. You either have not enough or too much, and it's a constant dance to fund and sell your inventory.
When we finally had 20+ units in inventory, I felt a huge sigh of relief. But almost immediately I started to feel a ton of pressure to get them sold and out the door.
My First E-Commerce Holiday Season
August & Wonder is my first e-commerce company, as I had done B2B (Business-to-Business) software previously
So 2018 was my first real holiday season. Some really great stuff happened in November and December. I did an in store appearance at Hammacher Schlemmer in NYC. December started out with a nice flurry of sales.
But also some not so good things happened. Apparently, the holiday season brings out the fraudsters.
It turns out I had let one transaction through that turned out to be from a stolen credit card. And that person was part of a stolen credit card ring operating out of the UK, and suddenly I started getting a bunch of fraudulent orders.
Being an e-commerce rookie, and also having trouble believing that someone would buy a stock market IoT seesaw with a stolen credit, I was a slow to recognize the problem. But I was able to recover, and limit the damage.
Since merchants are responsible for the cost of stolen credit card purchases, it was a rude introduction to the not-so-fun side of e-commerce.
And while December started off strong, it tapered off as the month went on. We had an initial burst of marketing at the start of December, but sales ebbed a few weeks later. It just goes to show that you can never really let your foot off the gas in regards to marketing.
The Never Ending First Run
So here I am in February 2019, and guess what? We are still working through assembling the final 100 pieces of our initial 300 piece run and we still have 70 more units to assemble! Sometimes everything seems to be going at a maddeningly slow pace.
But then I look back and see that as frustrated as I felt, all the delays proved invaluable.
For example, if I had quickly sold all 300 pre order units, I wouldn't have had the opportunity to learn that customers are willing to pay the retail price that was needed for the product and company to succeed.
Also, I'd still have customers waiting for their Markets, which would have put August & Wonder in the territory of so many crowd funded projects, blowing through milestones with angry buyers waiting for a product that is long overdue.
And I would have sold my units at a slim margin that would have made funding the next order challenging.
This slower pace has actually allowed August & Wonder to be able to learn about our market, deliver a great product in a reasonable period of time, and create a great experience for our customers.
I have learned how to make, ship and sell my product. You have to find an audience, and constantly engage with them. I learned about sales and distribution channels, and how to manage and support customers.
There truly is so much to learn when bringing a new product to market and every journey is going to be different. But that's what makes it exciting!
Okay, I hope you found the story of my entrepreneurial journey to insightful. If you have any questions or comments for me please post them in the comment section below.
If you read only one article about product development make it this one:
Ultimate Guide – How to Develop a New Electronic Hardware Product in 2020
.
This is a guest post by Steve August. He shared part one of his story in a previous guest post and now he's back to share the next part of his journey to market. This story is loaded with tons of important lessons that you do not want to miss.
Other content you may like: