Published on
CleverMove 360 is the first high-quality, movement-mirroring device for capturing smartphone videos. It works with any smartphone's camera to communicate remotely, with full mobility and privacy.
It has smooth, cinematic, 360-degree motion which mirrors the users' movements, including fast movements like exercising or children running around, with ease.
CleverMove 360 works with smartphones of all sizes and all existing apps (Facetime, Zoom, Google Meet, Microsoft Teams, Facebook Messenger, etc.)
It's as simple as placing your smartphone in a cradle to share video while maintaining your right to privacy.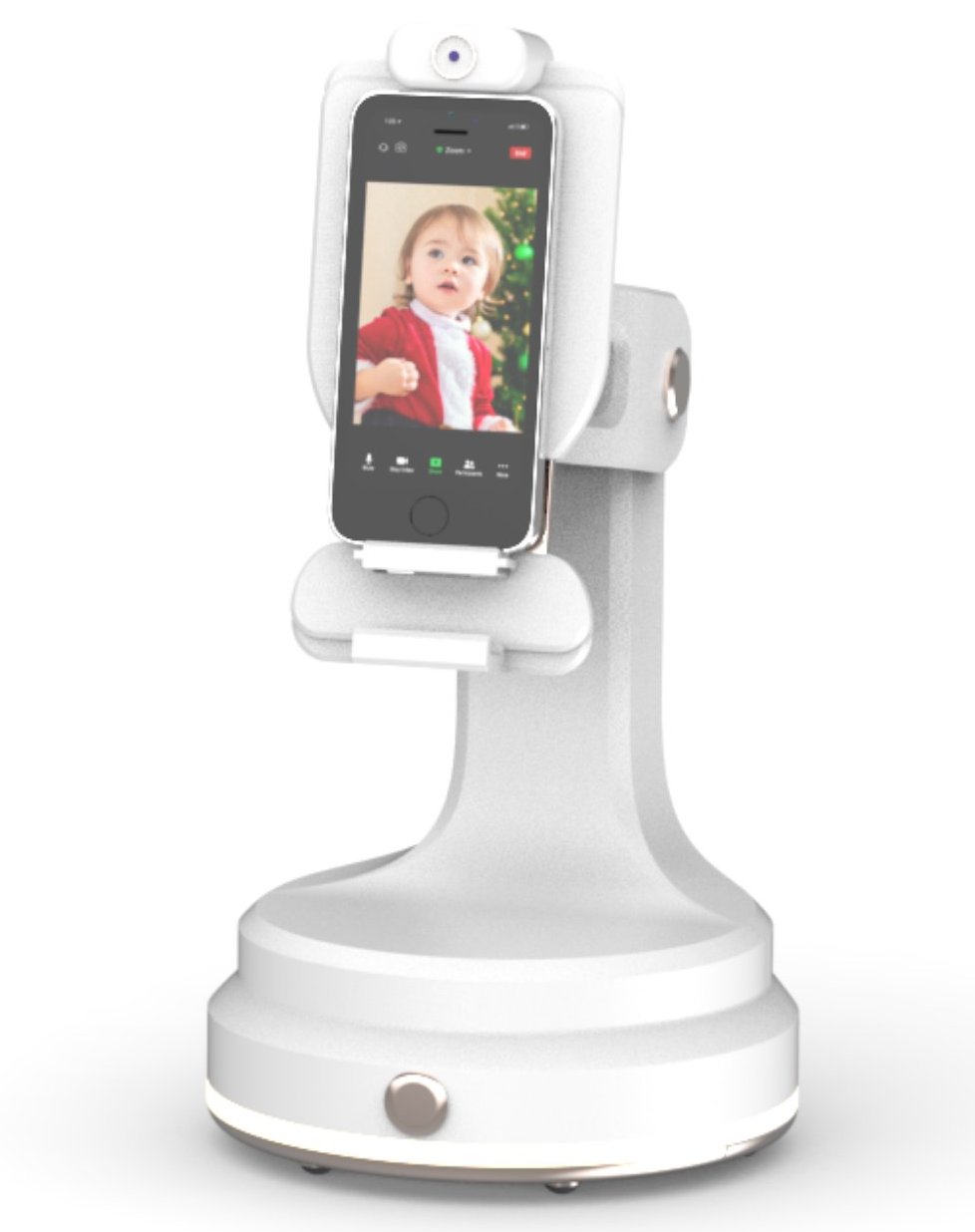 Other content you may like:
Details on the founders(s):
Mehul Gandhi is the CEO and Founder of CleverMov LLC, an edge AI and robotics company that envisions private, accessible, and democratized technology available globally to all.
He is an experienced technology professional that's both launched products and worked on bringing research into production in commercial and government settings.
Mehul co-founded a startup from a wireless location research project, helped develop next-generation wireless communications for the government, and helped launch an enterprise-wide API channel for a top 5 bank.
What fundamental problem does your product solve?
The fundamental problem Clevermove 360 solves is capturing hands free video of moving subjects. This allows users to feel "there" even when you can't be "there" physically.
Today's mobile and smart devices fall short when it comes to capturing special moments shared in a family, for example. If your camera is propped up on an object or a traditional stand, any moving subject quickly moves out of frame.
Too many other devices in the marketplace seek to monetize your data as a means to expand profits. CleverMove 360 is a privacy centric product with no WiFi or Bluetooth connectivity to gather and sell data on users.
Market description:
CleverMove 360 is designed for video conferencing, selfie videos, and selfie photography.
Target markets are families and busy parents with kids that want to connect to family and friends that are remote and capture memories through smartphone video and photography without a cameraperson.
CleverMove 360 is also for video bloggers and online content creators that distribute their content through YouTube, TikTok, or Vimeo.
It is for professionals wanting to create new content while moving around a tripod-mounted CleverMove 360. Several tripod-mounted CleverMove 360 s can be used to create content with multiple camera angles with complete freedom of movement.
CleverMove 360 is for remote workers that want to stand or move around during a video conference, presentation, speech or meeting.
Market and competitive research:
AI framing is used in competitive products like tablets, smart speakers with screens, and video conferencing services.
AI framing uses a wide-angle lens on the device, which identifies the subject's location in the frame, then crops and zooms in to follow users. These devices have a very limited field of movement and are not compatible with many services and apps.
CleverMove 360 can rotate in a circle continuously to follow moving people or objects, and is compatible with any smartphone or app.
There are several low-cost, poor-quality competitors. They only rotate on one axis, left to right, with a small field of movement. They aren't stable and can topple over when using the touch screen on the phone.
Additionally their camera is mounted below the cell phone, which leads to inaccurate user tracking.
The more simple solutions, like Kickstands and pop sockets embedded into phone cases, always require the subject to be stationary.
We are also a privacy oriented solution. CleverMove 360 does not have Wi-Fi or Bluetooth connectivity, so data gathering is impossible.
Current project status:
We've developed multiple prototypes of CleverMove 360. The initial prototype validated that the problem could be solved, and subsequent iterations validated features requested by prototype testers.
The industrial design and mechanical engineering are nearing completion.
CleverMove 360 's privacy-centric design performs its AI processing locally on the stand vs. in the cloud.
This approach requires cutting edge, super small and ultra fast AI processing. CleverMove is currently working on reaching cost, form factor, and performance targets for the AI processing.
Customer research:
We've interviewed or spoken with several hundred end users.
Additionally, we've deployed several iterations of prototypes to the field for testing.
The response has been excellent – end-users want a solution to this problem. Our prototype users keep asking when they will receive the next prototype iteration.
Pitches to investors, pitch competitions, accelerators:
We've had informal conversations with investors but no formal pitches yet.
Key technologies and/or components used in product:
CleverMove 360 uses the following technologies:
– Privacy-Centric Edge AI
– Super small and ultra fast edge AI processing running on an embedded processor, possibly with AI acceleration
– Motors for the stand's two-axis actuation
– Motor drivers for quiet and efficient motor performance
– Sensor to perceive the field of view in front of the stand
– A battery with a power and charging subsystem
Existing AI models need to be trained on images, however our models are not trained on pictures of CleverMov users.
Suggested retail price:
The target price range for CleverMov 360 is between $180 and $200.
If you have a website please share here:
Funding methods used so far:
Seeking outside funding?
Yes we are seeking to obtain outside funding.
Patent status:
CleverMov 360 is patent and trademark pending.
---