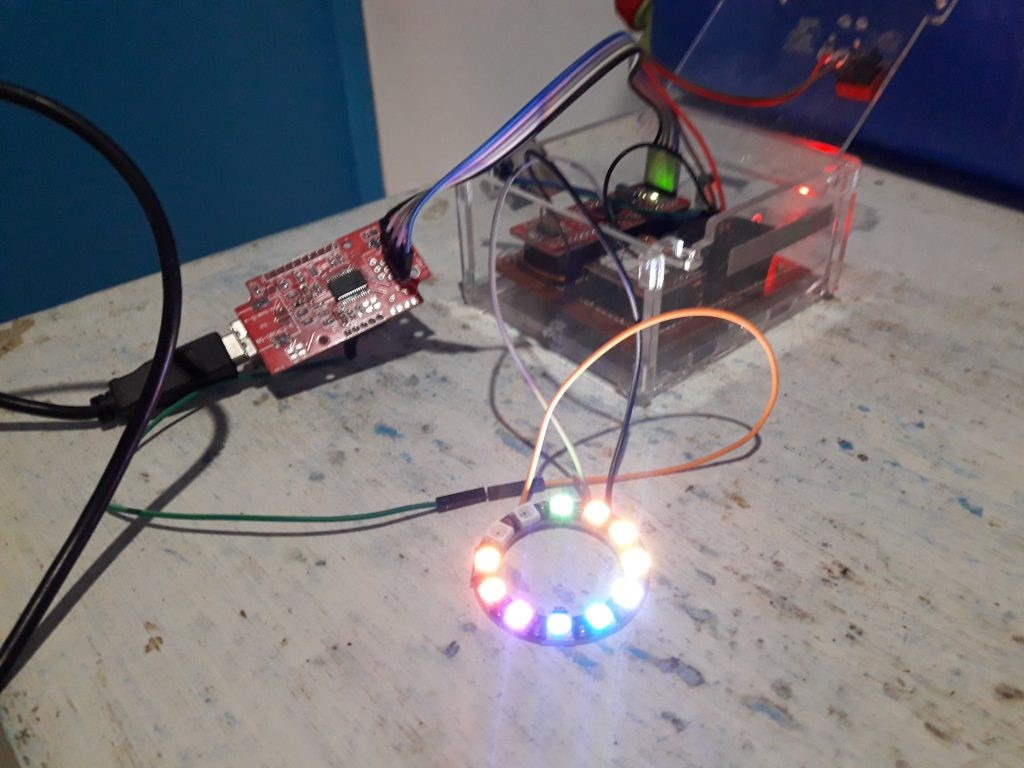 The following article is a case study contributed by Joseph Ricafort. Joseph's project was selected as the most innovative project for a recent Predictable Designs contest. Joseph is a Test Engineer based in the Philippines and builds electronics projects in his spare time. He wants to build small projects that provide big impacts to those in need.
Filipino farmers face major challenges such as damage caused by unexpected rain, droughts, and typhoons. Having an accurate weather forecast, that extends out for many days, is essential to farmers. Weather conditions are crucial for farmers to plan, purchase and apply fertilizers.
The weather has been increasingly unpredictable these days and farmers can no longer rely on their traditional knowledge of weather patterns. Climate change has affected one of the most vulnerable and the poorest sectors of the economy – rural farmers.


Weather forecasting could be a revolutionary tool for Filipino farmers but there are a lot of constraints to consider before fully realizing this life-saving technology.
Weather is a critical factor that affects the way farmers produce output yield and income
There are unique challenges when providing a solution for low-income individuals such as Filipino farmers. This population is unable to access or afford most current technologies. Additionally, Filipino farmers have a low level of education, and may struggle with language barriers.

Current and Alternative Weather Forecasting Solutions
There are many solutions out there in terms of weather forecasting, but most of the solutions fail to satisfy the needs of these farmers.
One of the available solutions is a local or personal weather station. These require precise and sophisticated equipment. The downside to this solution is the upfront costs since you need to purchase around $3,000 to $4,000 (Php150,000 to Php200,000) worth of equipment.
Broadcasting weather info through text messaging is another choice. Broadcasting can provide a localized weather forecast to farmers but it requires strenuous localization, coordination, and expensive transmission.
Most farmers have an FM radio where they can listen to weather forecasts. This technology is easy to buy and available anywhere, even in rural areas. The problem is that most weather forecasts over the radio can only deliver a two day forecast, wheras farmers really require a ten day forecast.

User Research: Getting to know the Filipino Farmers
I grew up in a rural area in the Philippines and I was raised by my parents who are both farmers. The idea of finding a solution for better access to weather information primarily came from them.
I realized this problem while watching my mother's anxiety over whether or not to buy fertilizer for her Calamansi trees (Chinese lemon). Farmers like my mother don't want to apply fertilizer if an unexpected heavy rain will be arriving soon.


Like most farmers, my parents are not acquainted with weather forecasting technologies. Shockingly, most farmers don't know that weather forecasting technology even exists!
One day I showed my mother a weather forecast using a mobile app. She began to ask me for the weather forecast several times a week. This compelled me to find a better solution for her, and for farmers in general.
Immersing myself in the farmers' personal experiences and struggles made it easier for me to identify their needs. Here are some quick facts about my target population, the average farmer in the Philippines:
Earns around Php150 ($3) a day
Most of them are old
Some of them have not completed high school or elementary school
Most farmers have no cellular phones
They are often resistant to anything unfamiliar, making it harder to adapt to new solutions
Establishing a Design Criteria
Based on my understanding of the farmers, I listed criteria for my product design:
Must be affordable

Most Filipino farmers live below the poverty line. They will not buy something useful but expensive.

Must provide the medium range to long range weather forecast with reliable data (7-12 days)

The longer the future forecast, the more time farmers have to prepare for incoming rain storms or typhoons.
Long range forecasts (1-3 months) are ideal for farmers, but given the poor reliability of these forecasts it is not recommended.
Medium range forecasts are the sweet spot between range and reliability.

Weather information must be real-time

It is important for farmers to know that the information they are getting is real-time.

Weather infomation must be based on the farmer's location

It must provide precise weather information that is based on a farm's actual location

Can be used by a person of any/most language

The Philippine islands contains over 150 different languages. It is a challenge to disseminate information to people speaking so many different languages.

Must be easy to use at any age or educational level

Most farmers didn't finish high school or elementary level. So basically not all of them can read or write.

Must adapt to local culture and traditions

It's easier for locals to adapt to new things, such as technology, if there are product components that are familiar to them.

Must not harm the environment

The materials and parts used must not damage the environment when the product has ended its life cycle and is discarded.
Brainstorming
The brainstorming process enabled me to generate many possible ideas. One idea that automatically came to mind was creating a representation of weather conditions in the form of LED lights. Colors or blinking patterns could represent and communicate weather conditions.
This way, I could avoid using words or text. This addresses the literacy, educational, and language barriers among the Filipino farmers. In the end, this was the idea that I chose to focus on.


Tradeoff Analysis
About 40-50% of the total cost of most electronic products come from the electronic components. This is why identifying the electronic components early on would help to balance cost versus functionality versus requirements. While brainstorming, I quickly researched the available components that could support the idea.
This part of the development process was a big challenge. Finding the right components, for me as a newbie designer, was daunting.
I began by listing all of the possible parts that are cheap but easy to develop. I looked at possible combinations of these parts in order to produce a product that is functional and useful, but still affordable.
The solutions finally selected are shown below in bold.
Choosing the MCU/dev board
Choosing the type of communication module. Ideally, a cellular module is the cheapest option and is accessible to most Philippine areas.

SIM800 Cellular Module

Uses AT commands and is easy to develop
Mobile data network is already available throughout most cities, towns and rural areas in the Philippines. Unfortunately, there are still a few locations without mobile internet access.
This would enable farmers to purchase prepaid internet data access. Internet data access costs Php5 / 15minutes. They do not need more than 3 accesses in a week and this is a reasonable cost for farmers.
Stores that provide prepaid cellular plans are also available in most areas.

Choosing the means/source of weather information

Weather Underground

Best choice as it has a very easy API to use where you can fetch the weather forecase through the internet
Available in 10-day forecast
Limitation of 500 queries per month and you may need to get a premium account which is expensive

Open Weather

Free weather access and currently has API
Available in less than 10-day forecast
Has some limitations to their monthly number of queries

PAG-ASA Forecast

Their data is more accurate and reliable
No API for developers is available

Choosing the means of interaction with the users

OLED

Black and white contrast is perfect
Consumes more energy and requires more memory

LCD

Consumes less energy and requires less memory
Screen is dull and hard to read

Colored LEDs

Cheapest option
Consumes least energy and memory
Mnemonics could be designed to display a few weather conditions
Limited number of interactions
Hard to figure out
Design Concept
After coming up with a different set of ideas and balancing cost-effectivity with functionality, I came up with a weather forecasting device that uses colored and blinking LEDs in the form of an amulet.
The amulet is a wearable device inspired from the Filipino traditional amulet which is called an "agimat". The color and blinking intensity indicates the strength of heat or rain on that specific day.
It's composed of 3 main components – a microcontroller, a SIM800 cellular module and 10 LEDs. The 10 LEDs represent the future 10 days of rain forecast.


Functionality
The microcontroller initializes the SIM800 cellular module to connect to the mobile network. When the connection is established, the SIM800 will locate the user through triangulation based on the nearest cell towers.
Once the location of the user is found, it will connect to the internet, attach the coordinates to the web URL of the weather service provider, and request the 10-day weather forecast for it.
Once the page has been requested, it will download the weather data. The 10-day weather forecast will include information such as chances of rain, amount of rain, wind speed, etc. This type of information will also determine incoming rain and typhoons.
The microcontroller will parse the data and pick out the necessary information. This information will be coded, saved and displayed in the form of LEDs.
The 12 LEDs are represented using 10 LEDs for the weather indicators and 2 LEDs for the battery and signal level indicators.
The microcontroller serves as the main hub for the tasks performed by the SIM800 module and LEDs. The microcontroller and SIM800 module communicate through a set of AT commands.

Block Diagram
Above is the simplified block diagram of the whole system. Basically, there are only three main components – the microcontroller, the cellular phone module (SIM800) and the 12 LEDs.

Prototyping
Putting the design into a functional prototype enabled me to provide insights on the functionality of the device.


Summary: What's Next?
Developing a low-cost device for low-income individuals is challenging for a designer, especially when the needs and capabilities of the users are primary concerns.
Understanding your users is an important part of product development. What are their true needs, goals and motivations?
Brainstorming and trade-off analysis has enabled me to generate ideas and select the best ones in accordance with the neccesary requirements.
Also, through prototyping, I have gained insights on making my idea into a feasible product. It has also helped me think through some minor iterations that I did not have in mind before, while keeping my target goal on point.
The prototype will itself involve testing and new iterations to ensure that it meets the needs and expectations of the users.
I hope that sharing my product development story will inspire others to build small products with a global impact.
If you have any questions or suggestions please leave a comment below.
Written by Joseph Ricafort
If you read only one article about product development make it this one:
Ultimate Guide – How to Develop a New Electronic Hardware Product in 2020
.
Other content you may like: