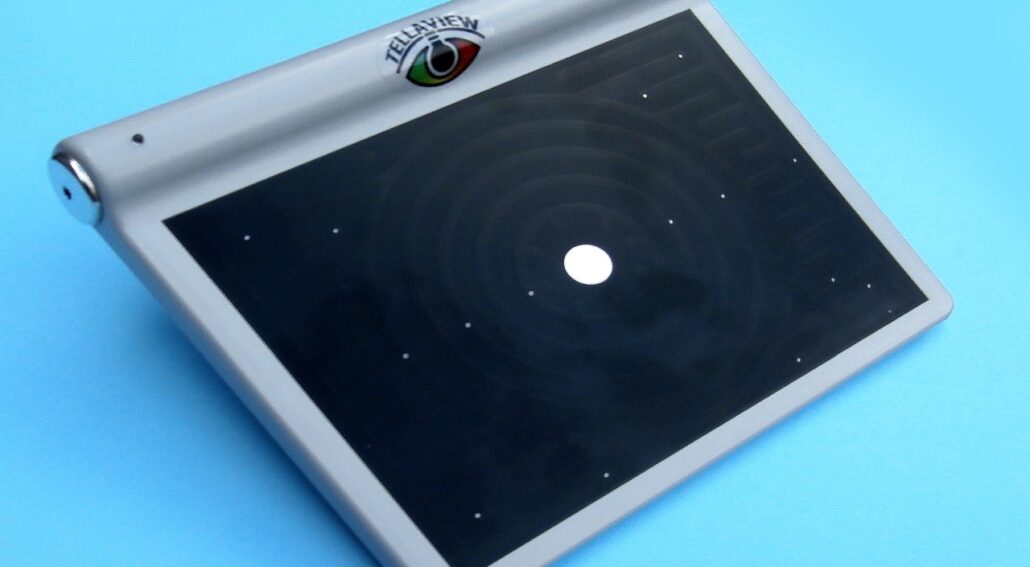 Published on
The TellaView security system provides a method for communicating and recording human physical interactions with monitored objects or areas, by incorporating a novel sensor, an optional camera and communication with a remote device such as a smartphone or computer.
This results in a system capable of providing the end user with the ability to immediately monitor activity that occurs with their secure object or area.
The TellaView security system addresses the issue of home and business security by monitoring un-authorized physical contact with or movement of small to medium sized objects.
The beta version of TellaView consists of an injection molded, IPad like, sensor device, on which the consumer can place any object to remotely monitor any form of external physical contact with, or movement of, the monitored object.
An "Alert" push message is provided via a phone app whenever the monitored object or area is disturbed. An optional feature is to remotely capture images of the person, caught in the act, disturbing the monitored object.
TellaView allows you to monitor items like cash, documents, alcohol, jewelry, car keys, weapons, and prescription drugs, without having to lock them inside a lock box or leave them unattended.
Other content you may like:
Details on the founders(s):
Founder, and serial inventor, Dr. Richard Deutsch has degrees in engineering, biology, and chiropractic medicine. He is the former director of engineering research at New York Chiropractic College.
He has 12 utility patents issued, and his work experience includes management of a large consumer electronics refurbishing company; black ink marketing; and 20+ years as a clinician and owner operating a holistic health center. He has operational skills in machining, tool and die manufacturing and injection molding.
As a bio-engineer, Dr. Deutsch has developed several therapeutic and diagnostic medical devices. He successfully developed, patented, and marketed 2 retail products.
He was the grand prize winner of the product of the year award from the high end catalog Hammacher Schlemmer for Ultratherm, a novel therapeutic device sold nationally through various catalog companies, with a retail price of $200.
Additionally, he has developed, patented, and marketed Wizmark, a novel marketing/public service device that is sourced in China. You can read about it in this NY Times article on the product.
Wizmark was adopted by the National Transportation Safety Association (NTSA) to run a national anti-drunk driving campaign lasting over a decade. It was utilized by 6 different countries for anti-drunk driving campaigns.
What fundamental problem does your product solve?
Conventional security systems tend to provide false positive alerts when something other than the monitored object or area is disturbed. In effect, they lack precision!
They lack the ability to differentiate between the gross presence of an individual within a monitored area and the placement, movement, or activity of any object(s) you select for surveillance.
This lack of precision in compiling relevant alerts and images results in useless information being recorded and forwarded.
TellaView technology solves the previously un-addressed problem of monitoring the specific interactions of people with specific objects or areas within the home or commercial environment, when known persons are present.
Our novel technology improves a security system's ability to monitor not only where people are but also what they are doing, while effectively minimizing false security alerts.
The use of a motion sensing passive (PIR) detector reacting to proximate human bodies is a technology commonly in use as a security monitoring sensor. Alternately, there is currently available for use in security monitoring, the electronic means of motion and person detection via video imaging, tracking, software object recognition, facial recognition, and pixel image change schemes.
Currently available security monitoring methods suffer from the significant deficiency that if the monitored object or area is not within the field of view of the imaging device, or is obscured or obstructed, then frame change, imaging-based detection becomes ineffective.
Almost all available imaging classes of security designs attempt to produce a single product design for motion and human detection. This simplistic object detection results in a security alert every time a person's presence is detected.
Camera activated security warnings and recordings are generated irrespective of the size or character of the person's actual actions or near physical contact with the monitored object or area.
TellaView has the ability to monitor not only where people are but also what they are doing, while effectively minimizing bothersome false alerts.
Market description:
TellaView is for any person or institution requiring a security system that provides a high resolution means of determining physical contact or near proximity to their monitored object or space through direct or indirect remote monitoring and/or imaging.
TellaView is for the home environment and monitoring objects of interest to the consumer may be cash, documents, alcohol, jewelry, car keys, weapons, prescription drugs and/or anything else the user might desire.
In the potential retail/commercial/ medical/government market, TellaView can monitor high value objects like cash, high ticket items, prescription drugs and keyboards. TellaView technology can augment existing camera-based security systems.
Market and competitive research:
Current market research is limited to the founders understanding the metrics of currently available home and retail-store security systems. The moat is pretty wide!
There doesn't currently exist any competing security systems that provide the level of resolution for monitoring an individual's un-invited contact with a selected item(s) while providing the user with remote warnings and video recordings when these contact/proximity security violations do occur within the home/business/government environment.
Current project status:
A Tellaview beta test version, utilizing off-the shelf software and firmware integrated into an iPad-like security device, is currently available for review. It provides object specific security detection, alert messaging and additionally, direct imaging of the security violator with multiple images forwarded to the user via a push messaging app.
The beta test version of the TellaView security tablet is under development and just about ready for external review. (Awaiting firmware completion).
It incorporates a first-generation, ABS injection molded case (steel tooling) while providing fully functional, object specific, security protection through a custom iOS app. The app relays an alert message to the home-owner/user, via push messaging, when contact or proximity with the monitored object or space has been detected.
(Note; while custom TellaView imaging and messaging is under development, the imaging and messaging in this demonstration sample is not customized nor specific to the TellaView security system).
Customer research:
Our potential customers are looking for remote monitoring of small to medium sized objects of value including pets.
Due to the broad nature of this protected intellectual property, TellaView has the potential to find itself utilized in various security environments.
TellaView augments the quality of most existing home security systems, more specifically camera-based security systems. On the commercial side, it will augment business, museum, and government security monitoring systems.
Person to person interviewing of TellaView's monitoring capabilities with varied potential retail customers indicate a high interest among homeowners in protecting valuables and specialty items in their home environment when other persons are present e.g., family members, visitors, children, and cleaning personnel.
Numerous personal contacts with handgun owners in my region have indicated high interest in monitoring weapons when they are kept in close proximity to their bed, on the night table for instance.
They see the TellaView Security System as a viable means to securely monitor their weapon while concurrently keeping it readily accessible for use. 40% of adult Americans own a gun or live with someone who does.
Pitches to investors, pitch competitions, accelerators:
No pitches have been done.
Key technologies and/or components used in product:
Construction consists of an ABS injection molded case incorporating off the shelf electronic hardware supporting an ESP32 Wi-Fi interface communicating with an associated phone app.
Suggested retail price:
Suggested retail price for TellaView is $160 to $200. This reflects five to six times the manufacturing cost, plus $24.00 per year for push messaging/monitoring support.
If you have a website please share here:
Funding methods used so far:
Seeking outside funding?
Yes, they are seeking funding.
Patent status:
The founder holds four recently issued utility patents protecting the innovations and technology incorporated into TellaView, and its numerous and various associated security applications.
US10789822B1 (Core)
US10902708B1 (CIP)
US11145175B2 (CIP)
US9125380B2 (Pet Monitoring)
Additionally, the founder holds a dozen relevant high quality, security project URL's (Domain Names).
---