5 Successful Industrial Products Powered by Raspberry Pi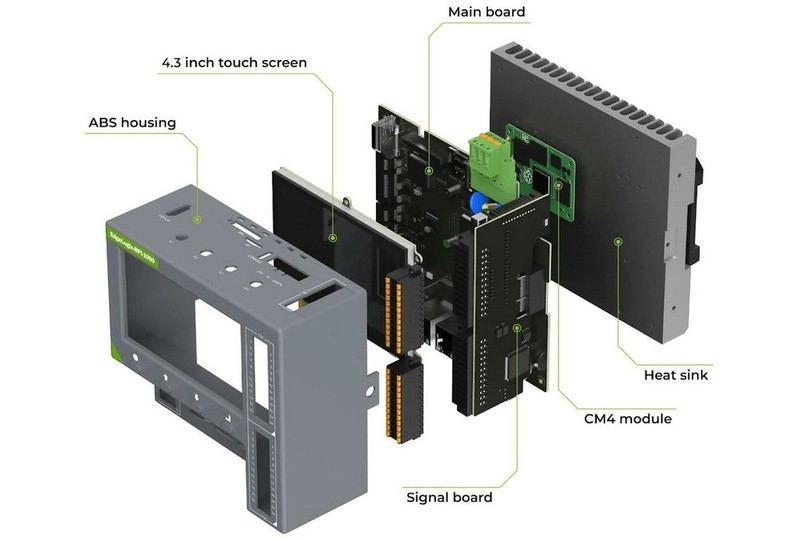 Published on
By the end of 2020, industrial customers made up 44% of Raspberry Pi global sales, which at the time totalled around 15 million dollars.
The Raspberry Pi Compute Modules were in fact developed to meet the needs of commercial electronic products.
But as many of you know, supply chain issues from the pandemic led to limited Raspberry Pi availability until 2023.
Luckily, Raspberry Pi's future forecasts look amazing – the global industrial market for Raspberry Pi is expected to reach $385 million by the year 2026.
This growth is due to a variety of modern factors – wireless networking is preferred in industrial settings,  industrial automation with IoT adoption is growing in popularity, and there's an increasing demand for smart warehousing and inventory management services.
Raspberry Pi has also dedicated online support specifically for industrial customers that includes recommendations for approved designers.
In this article I'm highlighting five industrial products on the market that are currently powered by Raspberry Pi technology.
PDR IR-E3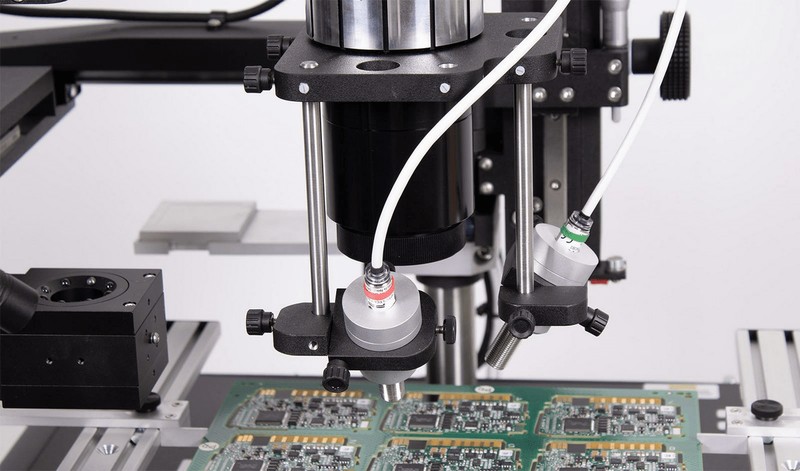 A Raspberry Pi powers the PDR IR-E3, a rework station for BGA/SMT components that's designed to handle all the difficulties involved in fixing modern PCB assemblies.
Made in the UK, it's PDR's best-selling system, and one of the best-performing BGA rework stations on the market.
This straightforward rework station is suitable for all BGA/SMT components and includes features like advanced automatic thermal process control, a reflow process observation camera, and precise component pick and placement.
It has three zones of quartz infrared PCB preheating, sophisticated focused infrared component heating, and a split beam prism system for viewing the PCB and components at the same time.
High levels of process control and profiling are made possible by the IR-E3 series, which is essential for efficiently reworking the most sophisticated packages, such as SMDs, BGAs, CSPs, QFNs, LEDs, flip-chips, small components, and lead-free applications.
The device makes use of dual-band visible infrared heating, a component of PDR's unique focused infrared technology. The stations don't use gas or nozzles.
The PDR IR-E3 is used in a wide range of commercial sectors, including manufacturing, healthcare, and hospitality industries.
The CM4 AI Camera by Edatec

The Raspberry Pi Compute Module 4 combines with a camera module to create the CM4 AI Camera, a "smart" camera system for use in industrial environments.
It can be used for a wide range of industrial tasks, including surveillance, quality assurance, machine vision applications, facial recognition, object detection, and license plate identification.
The IP67-rated CM4 AI Camera has a fixed or liquid lens and LED lighting.
The Raspberry Pi Compute Module 4 is included with the camera and can be configured to carry out a wide variety of industrial tasks.
The Raspberry Pi allows users to run OpenCV, Python, and Qt computer vision applications.
It was created and is sold by EDATEC, a business that specializes in the development of embedded systems and industrial automation solutions.
The camera module can record and capture high-quality photos and videos, from which valuable information can be extracted through machine learning techniques.
The device supports Ethernet/IP, PROFINET, and Modbus communication protocols and features a fixed focal length lens and scanning field electronic liquid lens. It also has a gigabit Ethernet M12 interface.
It's a great example of the growing need for smart products in the industrial environment.
The EdgeLogix-RPi-1000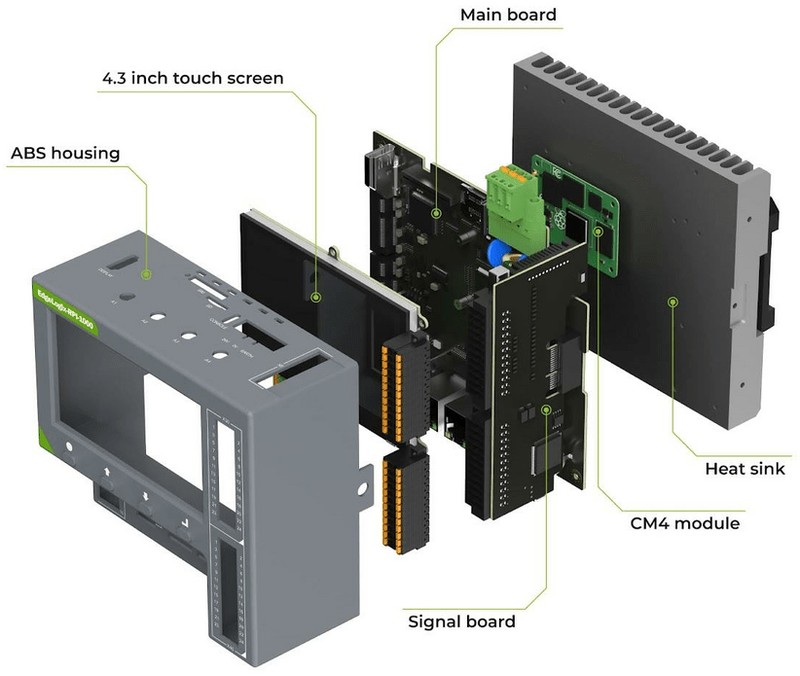 Based on the Raspberry Pi Compute Module 4, the EdgeLogix-Rpi-1000 is an all-in-one industrial edge controller made to handle intricate machinery and systems.
It's a single device that integrates the capabilities of an IoT gateway, lightweight HMI, OPC UA Server, Industry PC, and high-performance PLC/PAC all in one unit.
With up to 4GB of RAM and 32GB of eMMC, it's built around the Raspberry Pi Compute Module 4.
With its numerous mounted IO ports, flexible design, wide support for industrial bus protocols, wireless capabilities, and support for cloud services, the device is capable of managing intricate systems and sophisticated machinery.
The core processor of the EdgeLogix-RPI is the Raspberry Pi Compute Module 4.
This allows the device to support several wireless capabilities, including 2.4G/5G WiFi, BLE, mini-PCIe slot for 4G LTE, and LoRaWAN® modules.
It can handle all-in-one application situations and features Web service, OPC UA, and DHCP/DNS built-in IT connectivity.
A variety of EdgeLogix-RPI-1000 devices, each with varying features and costs, are available from Seeed Studio, and they sell the RPI-1000-CM4102032 for $479.00.
The Factor 201 Raspberry Pi Industrial IoT Gateway by Onlogic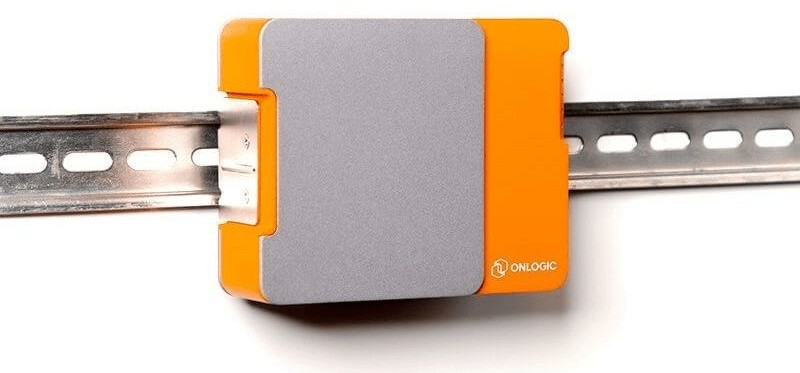 The Factor 201 Raspberry Pi Industrial IoT Gateway utilizes the Raspberry Pi Compute Module 4 to bring the capabilities and versatility of Raspberry Pi to the industrial environment.
The device  can be used as an edge gateway, general-purpose computer, industrial controller, or Internet of Things (IoT) device because it's designed for demanding industrial applications.
The Raspberry Pi Compute Module 4 serves as the main CPU for the Factor 201 Raspberry Pi Industrial IoT Gateway.
It can be configured with up to 8 GB of memory and includes dual LAN, Wi-Fi, 4G, and PoE-PD choices. It also has a 2 TB M.2 SATA drive.
With a fanless solid-state design, a wide input power range, an operating temperature range of -20° to 60°C, and industrial components with long life cycles, the device is built to withstand tough industrial settings.
OnLogic is currently selling the Factor 201 for $371.66.
ModBerry 500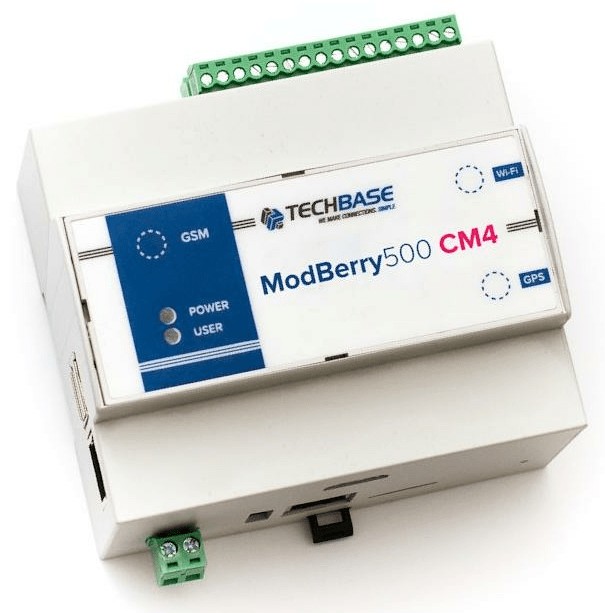 Modberry is a line of industrial computer devices built around the Raspberry Pi compute modules.
These gadgets can be connected to a variety of industrial and building automation systems thanks to their numerous sensors and communication connections.
The newest ModBerry model, the ModBerry 500 CM4, is an IoT-ready, small industrial computer built on the Raspberry Pi Compute Module 4.
Its hardware is programmable and includes an NVMe SSD, an LTE and 5G modem, and more.
Devices from ModBerry are suitable for usage in challenging industrial settings, like factories and power plants.
Its core component, the Raspberry Pi Compute Module, enables the device to operate in power-saving modes in addition to being energy-efficient.
This results in lower expenses for industrial customers in addition to reducing its power usage.
The ModBerry is powerful and efficient, offering an affordable option for industrial automation systems.
You may enjoy these other articles in this series:
– Successful Products Powered by a Raspberry Pi Compute Module
– Successful Products Powered by Raspberry Pi
– Successful Products that Began as Arduino Prototypes
– Successful Products Powered by an ESP32 Wireless Microcontroller
– Successful Hardware Startups That Were Bootstrapped
This article was written by Jessica Teel.
Other content you may like: